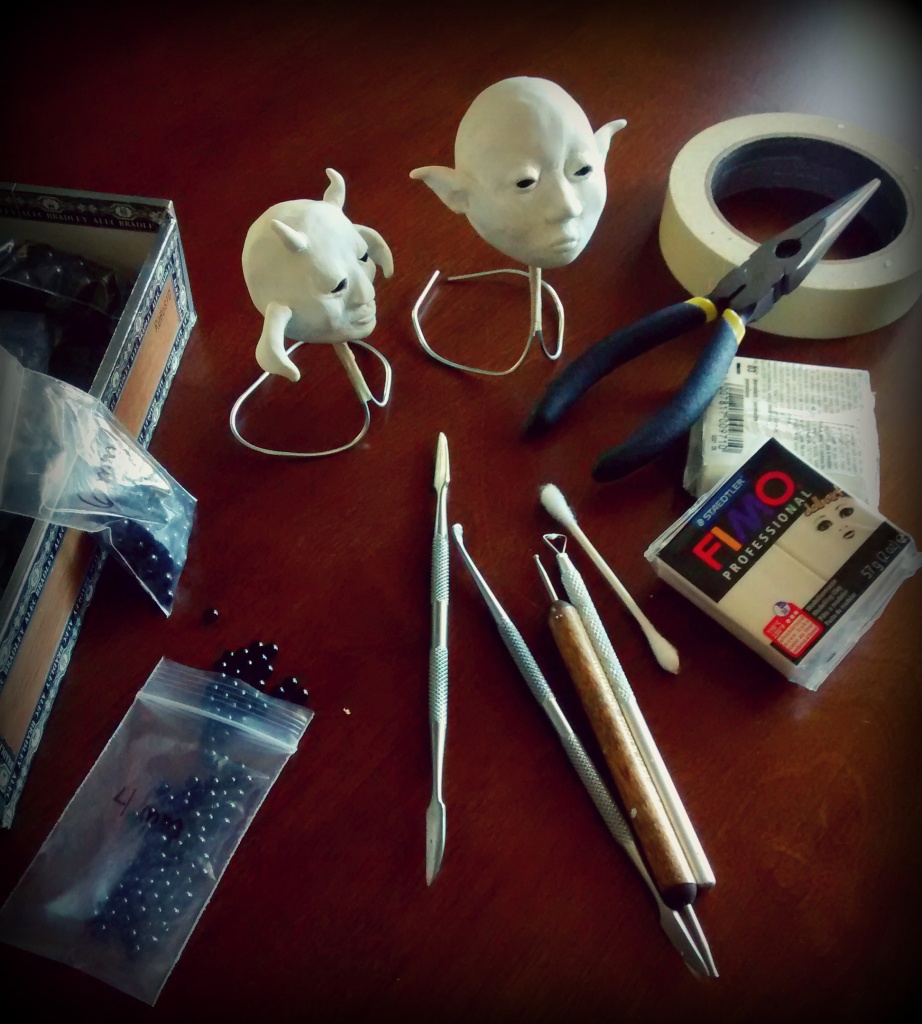 (Here's a peak at what I've been working on: practicing some new techniques and experimenting with a new style)
I apologize for my silence as of late – I promise I haven't disappeared!! Summer is always a busy time of year for my family – lots of camping, bbq's, zoo days and the like – and I find it very hard to stay focused on my work. In addition to that I've had a lot on my mind lately.
I've been taking some time to examine and consider what my vision and my plan as an artist is. What kind of dolls do I want to make? What story do I want them to tell? I think it's good to always be re-evaluating where you're at and where you want to be. And it's taken me all the way back to my childhood, back when I first fell in love with the idea of making dolls, although at the time it was puppets. I was obsessed with puppets, and wanted more than anything to be a puppet maker. Wendy and Brian Froud's work has been some of the biggest influences on my life as an artist. Their work is simply amazing. There have been a lot of other influences as well. I read a lot as a child (still do!), primarily fantasy books involving fairies and elves and dwarves, dragons and dungeons and all sorts of magical things. And it's taken me until now to realize that the story I want to tell with my dolls is one of a magical world, a world that has existed in my head since I was a little girl.
As I've come to realize this I've also struggled with fear and doubt. It can be a scary thing to try something new, especially when you're known for something very specific. What if it turns out horrible? What if people hate it? But lately I've been greatly inspired by Jessica of The Dusty Button Jar. She makes the most wonderful little dolls – creepy and adorable in their own little way – and she has been experimenting with new styles and techniques. And she's come up with some amazing new work as a result! I find her bravery to be heavily inspiring. So I'm diving in and giving it a go!
Last week I was finally able to watch Wendy Froud's doll making tutorials and I've learned so much from them. I am collecting some supplies at the moment and experimenting with new face styles, as you can see above. I am hoping to begin focusing on creating more fantasy type dolls and I'm wanting to also experiment with a more realistic style. As well, I hope to create dolls that can stand and be posed without the aid of a doll stand – something Wendy teaches in her dvd's. I got some new clay in the mail today so that I can try sculpting with skin colors. And tomorrow I plan to make a trip to the craft store for some fabric and bits and bobbles. Hopefully I'll have something more interesting to show you very soon, but in the meantime know that I appreciate all of you and your support. I will be having an online sale in the next few days, as a way of saying thank you. I'm very excited to try out the new things I've learned and to attempt things I've thought about for a long time. But I'm also nervous. Please bear with me as I experiment and find my way. I have no idea what the future will look like for Dark Manor Dolls, but I know that I must follow my heart!!