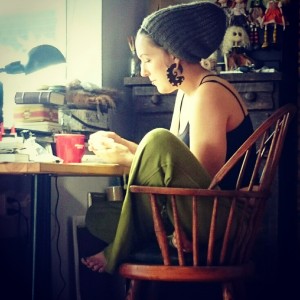 Rose Frazer, creator of Dark Manor Dolls
I'm a self-taught doll artist from Seattle, Washington and the creator of Dark Manor Dolls – my little house of curiosities, where I bring little creatures to life out of polymer clay. I've been working in this medium for over 4 years, but I've had a love for dolls and puppets nearly all my life. As a child I dabbled in making my own hand puppets out of socks and sewing tiny dolls for my dollhouse. As an adult, however, I was first introduced into the doll-making world when I stumbled upon needle felting about 6 years ago. I immediately fell in love with this 3D form of art. There was something so amazing about seeing a little creature come to life on my work table. Then a few years ago I discovered polymer clay art dolls and knew I'd found my true passion. That was when Dark Manor Dolls was born. I've been working in clay ever since, creating art dolls.
I love how magical this medium is. I take a ball of clay, a lump of nothing, and with a little pushing and prodding it becomes a little person. People often ask if I have a plan before I start sculpting. Sometimes I do, but often when I start out I have no idea what kind of doll I'm going to make. I just start sculpting and as I work the doll sort of tells me who it's going to be. And even when I do have a plan, the doll always has a voice of it's own, adding it's own bit of inspiration as I go. It reminds me of being a kid again, sitting at my work table talking to my imaginary friends. I find that to be so wonderfully rewarding.